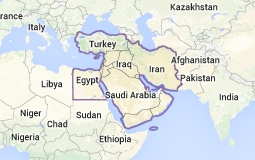 Associated Broadcast Consultants are proud to announce that we recently won a contract to deliver a nationwide FM network plan for a major economy in the Middle East.  Our Teir 1 client chose ABC to assess the technical and financial feasibility of utilising their existing sites portfolio to host the network.
Work started at the end of 2015 and was completed today.  The delivered feasibility study provided three alternative deployment plans, with further options on transmitter vendor – Nautel or Broadcast Warehouse.  In addition a complete set of Bill of Materials was provided catering for each category of sites, a Total Network Cost Model, and ABC's unique interactive online "Coverage Explorer" tool.  This tool permits the customer to explore the planned coverage in detail using the power of Google mapping API's.  They can compare network plans, and switch individual sites on and off to see how much coverage each provides.  We believe this gives our customers powerful and unique insights into their network plans.
If you think ABC can help with your radio network engineering, then Contact Us!