Many of you are probably familiar with the MCA maps that Ofcom publish for all Commercial and Community radio stations. These maps describe the formal administrative/legally licensed area of those stations.
Strangely though, Ofcom is unwilling or unable to publish MCA maps for the other 58% of FM transmitters that it licences – namely the BBC sites.  In a response to a Freedom of Information request they suggested contacting the programme provider (eg the BBC) to discover the licensed area of the transmitters that carry their services.
We have yet to find the right person in the BBC to get this information.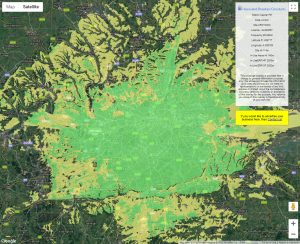 In the meantime we've decided to produce our own coverage maps for EVERY licensed FM transmitter in the UK.  These are designed to be as "MCA-like" as possible.  However they should be regarded as indicative only and not as a substitute for proper Ofcom-generated licensed area maps.  In particular note that Ofcom sometimes manually edits their maps to reflect target editorial areas, whilst our maps indicate the full extent of actual (radio) coverage.
You can browse them here.